CS40 40M 10W SSB Transceiver Kit


The New CS-series supercedes the popular KN-Q7A.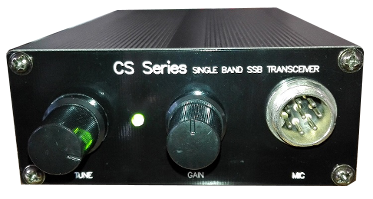 The CS40 Transceiver integrates Sandwich digital VFO with 100 Hz resolution offering full 40m Band Coverage. A Speaker Microphone is supplied with the Kit. Just connect to a suitable Antenna and a 12V Power Source and you are ready for operation both from home station or portable locations.

Video introducing the CS Series Single Band Receiver
Video on operating the Sandwich Digital VFO



Fun to build!
The KN-Q7A single band 40m Transceiver Kit is a great project for licensed Radio Amateurs who would like to build their own SSB Transceiver.
Apart from 1 medium-sized SMD transistor, the kit uses conventional leaded components on a quality PCB with moderate component density and a classic uncomplicated circuit design.
Assembly should be no problem if you have with some previous Kit building experience.
With guidance from an instructor, this kit also make a good first project for Novice Operators with some previous soldering experience.
Download detailed Assembly Manual and Parts List

Fun to Operate!
Full 10W SSB RF Output and 0.5 uV Sensitivity assures solid on the air performance - Simple to operate!
Ideal for Portable or Emergency use in combination with a 12V Gel battery and a 10m Fibre mast to provide support for either a conventional 40m Dipole or a 40m Halfwave - end fed antenna. This allows a quick setup by backpackers and an antenna tuner is not required.
Review of the KN-Q7A (predecessor of CS40) in November 2013 Radcom

'I had a lot of fun building the kit and would encourage anyone to blow the dust off the soldering station and have a go at homebrew'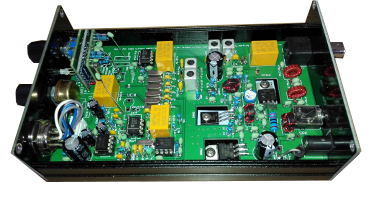 The kit comes complete with black enclosure and all components including a
Speaker/Microphone

Features Novel Tuning indication using multicoloured LED.
Also Available: CS20 20m 5 Watt SSB Transceiver Kit


CS40 Specification
• Frequency tuning range: Digital Sandwich VFO coverage from 7000 kHz - 7200 kHz with a minimum frequency step of 100Hz. Novel Tuning indication using multicoloured LED.

• Mode: Lower Side Band (LSB)• RF output: about 10 W PEP @ 13.8 V
• Harmonic and Carrier suppression: better than -43 dBc
• Sensitivity: better than 0.5 μV at 10 dB SNR
• IF filter: 6 pole crystal ladder filter + 1 pole post IF amplifier crystal filter
• IF bandwidth: about 2.0 kHz - IF frequency: 8.467 MHz
• Power Supply: 12 to 13.8 V, 3 A
• Dimension: 153 mm x 97 mm x 40 mm excl protrusions
• Weight: 500 g or 1.1 lbs
• Current consumption: about 30 mA in RX and about 2.5 A in TX @ 13.8 V
• Connectors: - Speaker output: 3.5 mm connector, mono output & DC Power Input Socket
• Microphone input: 8-pin, CRKITS Speaker-Microphone supplied with kit, compatible with electret microphones
• Antenna connector: BNC Jack
• 2 Controls: Tuning Control & IF Gain Control acts as volume control
SDR Kits
is authorised European supplier of CS 40m/20m Kits by CRKits - stock is shipped from UK, avoiding any unexpected import duty.
We also offer technical advice and support for our Customers.
Chinese QRP Yahoo Group Forum for additional support