SDRplay RSP1 10kHz - 2000Mhz Wideband SDR Receiver

●
10kHz–2000 MHz Coverage

●

12-bit ADC

●
8 RF Band Filters

●
High Speed USB 2

●
Windows Linux Android & MAC

●
Competitive Price
The SDRplay RSP1 is a powerful wideband full-featured SDR which covers all frequencies from 100 kHz up to 2 GHz without gaps. All it needs is a computer and an antenna to provide communications receiver functionality.
New - SDRplay RSP2 is now available with additional features resulting in higher specification for specialist amateur radio users as well as benefits for additional scientific, educational and industrial SDR applications.
Free Professional Software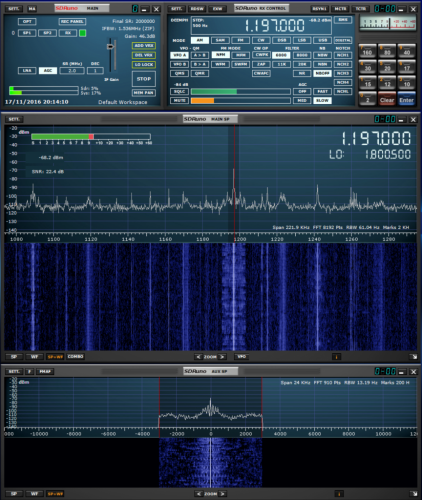 Used with the free Professional SDRUno SDR Software you can enjoy all modes of operation whilst monitoring up to 10 MHz of spectrum in real time.
SDRUno software allows you to operate from 1 up to 4 independent virtual SDR Receivers within the selected 10MHz bandwidth of the SDRplay hardware.
An open API allows developers to create new demodulators or applications around the platform.

The actual number of Virtual SDR receivers is limited by the processing power of the PC in use.
See SDRplay's Youtube demos

Please note that coverage with other Software Packages like HDSDR is from 100kHz - 2000 MHz at the present time.
Compared to cheap 8 bit SDR-RTL dongles, the RSP1 offers superior performance because of the following features:

12 bit ADC with selectable bandwidth from 200 kHz to 2000 MHz

8 Front end Filters - 6 Cauer Band Pass + Low Pass & High Pass Filters
Switchable Low Noise Amplifier with Automatic and Manual Gain control.

Truely Wideband coverage - no HF UP-Converter required
Powered from the PC USB B Bus
Works with popular SDR Software like HDSDR & SDR-Consol-e
Multi platform support Windows, Linux, Mac and Android.
Typical Receive Applications
● Broadcast and Utility Stations ● All Amateur bands 136 kHz – 23 cm ● VHF & UHF Airband ● ACARS and ADBS Aircraft Tracking
● Beacons-WSPR-Propagation ● VHF Shipping & AIS Ship Tracking ● Panoramic IF Receiver/Adapter ● TV & DAB Broadcast Support
Please note that SDRplay RSP1 is currently out of stock - please check this page in 4/5 weeks

SDR-Kits is an Authorised Distributor for SDRPlay Products Worldwide except for North America.

The RSP1 is normally available from stock - we ship within 48 hours via Registered Post / Tracked Airmail.

RSP1 product is sold through SDR-Kits Authorised Reseller for Japan: ICAS Enterprises www.ICAS.to

SDRplay Accessories